Vulnerable Group Development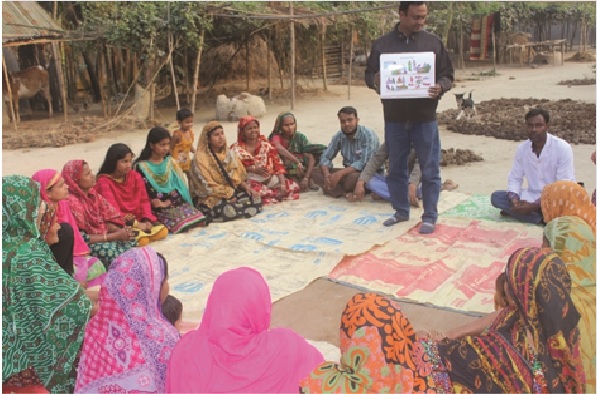 The largest social safety net program of the Government of Bangladesh is "Vulnerable Group Development (VGD) that exclusively targets ultra poor households. About 750000 direct ultra-poor participants across the country receive monthly food ration for the household and a development support services (inclusive of life skills and income generating skills training, savings and access to credit) for a cycle in 482 Upazilas. In the FY 2018-2019, with the financial support of Ministry of Women & Children Affairs, Government of Bangladesh, GUK covered 2,102 beneficiaries under 105 groups in Gabtali Upazila under Bogura district.
GUK assisted union parishad in proper distribution of 30 Kg rice per month among 2,102 VGD members family in 11 unions of Gabtali upazila under Bogura district. GUK had accumulated savings worth Tk. 4,037,144 from 1,925 VGD members and disbursed loan amounting Tk. 25,75,000 to the VGD members for undertaking small IGAs. Also, GUK provided IGAs & life skill development training to the VGD members for enhancing their capacity as well as increase of household income
OBJECTIVES OF VGD PROGRAM:
Sustainable positive change of socio-economic condition of vulnerable women in Bangladesh, so that they would be able to lift up themselves successfully from existing food insecurity, malnutrition and could transform themselves from destitution to at least in a recognized respected social level.
VGD aims to reach ultra-poor rural women with complementary inputs support that could improve their nutritional and would enhance their livelihoods and self-reliance.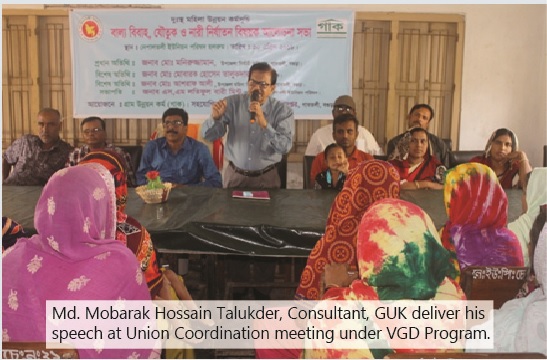 The major activities of VGD program aimed to overcome the vulnerability of the poor by adopting sustainable livelihood practices. To achieve the goals and objectives of the project, the following activities have been carried out in last year;
Vulnerable Group Formation
Credit and savings facilities
Issue based awareness raising /campaign
Skill development training on  IGAs and
Training on sustainable livelihood approach.