Livestock Development Program through

Contract Farming Model
GUK started implementing the Livestock Development Program through Contract Farming with the financial and technical assistance of PKSF under the LIFT program in 2008 by setting up a dairy breeding farm for breed development to produce quality heifers for distribution to the contract farmers. The program aims to achieve economic empowerment of the poor community people through improved cattle rearing and establishing mini dairy farms at community level and to improve the nutritional status at household level through increasing milk consumption.
GUK Mini dairy farming system has got popularity at community level and knowledge & skills of contract farmers have been increased. Farmers are receiving loan on different IGAs related to livestock enterprises and GUK has been providing technical support and training to make the enterprises profitable. A total number of 5,81,909 borrowers received loan Tk. 17,581,066,000 on different livestock related IGAs from livestock development program
Highlights
5,81,909

borrowers

received loan Tk. 17,581,066,000 on different livestock related IGAS.
Total 4,750 contract farmers have been benefited from the GUK dairy farm.
Imparted training to 6,250 farmers on goat rearing, cow rearing & beef fattening to increase the production and productivity.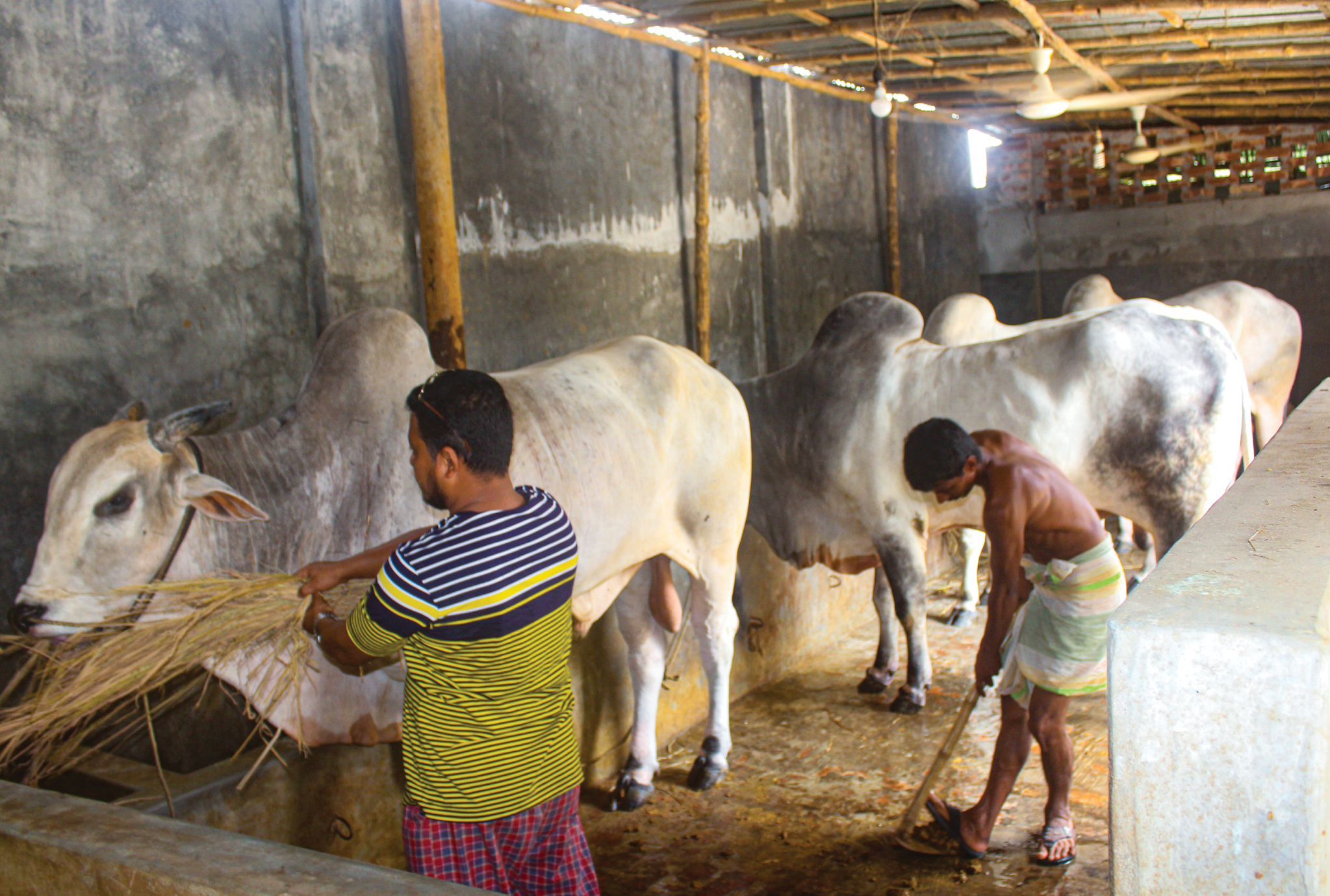 Main Objectives
Create employment opportunities.
To promote the nutritional status at households level.
Contribute to national economic growth and restoration of soil fertility.
Promote quality artificial insemination for production of improved heifers & bulls.
Promote improved cattle rearing practice at community to enhance production and productivity.
Internship
GUK Dairy Farm is being utilized as a "Resource Center" including internship facility for the students of Veterinary Science & Animal Husbandry faculty of Bangladesh Agricultural University, Mymenshing, Sylhet Agricultural University, Sylhet, University of Rajshahi and students from National University. Every year around 100-120 students are completing their internship course for acquiring practical knowledge and experience at community level mini dairy farm, weman empowerment and livelihoods improvement through different IGA implementation.