Sustainability in context of corporate social responsibility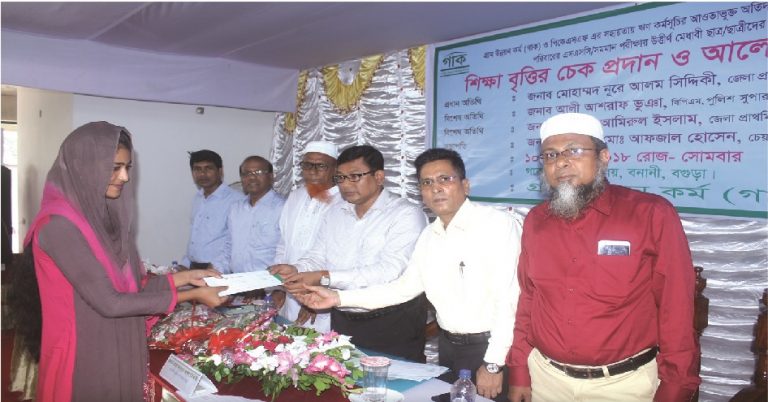 Sustainability refers to durability or viability of any work / action or activity that benefits mass people or target group for a long time. The concept of sustainability has become a burning issue all over the world before initiating any development activity. In this context the corporate social responsibility deserves more attention since it addresses a large portion of population living below the poverty line. Gram Unnayan Karma (GUK) as a pragmatic development organization has been launching a bundle of development activities under CSR towards elimination of discrimination and alleviation of poverty to uphold its mission of generosity.
In addition to the on-going development activities GUK has ethically approved a CSR policy to provide exceptional financial literacy support and corporation to the beneficiaries and their families as well as to the poor community people within GUK's coverage areas. Within the CSR policy, the organization provides stipend facility to the meritorious students of GUK's beneficiaries, non-formal and formal technical educational support, health care support through organizing health camps and eye care services  through GUK Eye Hospital, static and satellite clinical services, arrangement of eye camps for screening eye patients, nutritional support, water and sanitation facilities, emergency disaster relief and rehabilitation support, rehabilitation of disable people, provide support to aged people and social and economic development cultural activities.
About 12,755 patients received financial assistance for medical treatment.
2,510 patients received financial assistance through health camp, eye camp and for eye operation.
232 students (from poor HHs) received stipend.
26 parents received assistance for their daughter's marriage arrangement.
2,250 poor old aged people received financial assistance.
42 institutions received donations for water and sanitation improvement.
95 organizations received financial assistance for social and cultural activities.
About 10 million taka spent for CSR activities for the FY 2018-2019 under GUK Program.